Why Do Yoga Socks Have Holes in Them?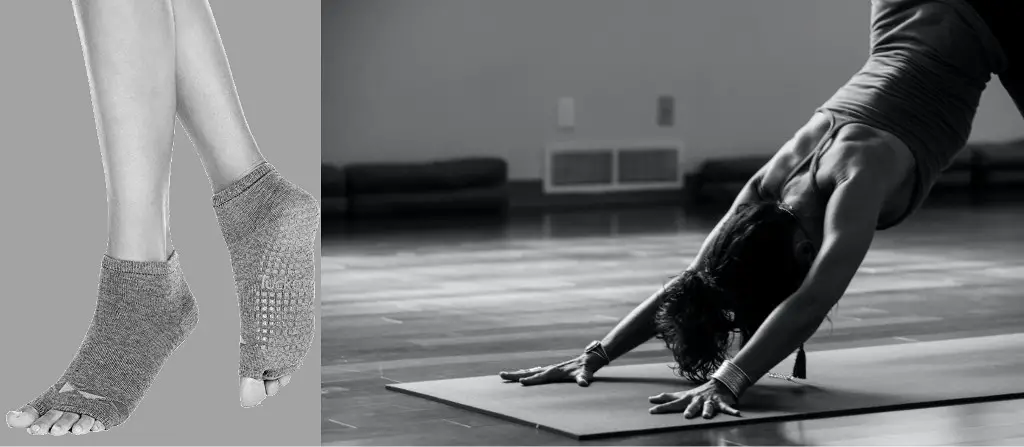 Yoga socks are great for keeping your feet in proper position and preventing slipping during your practice. There are many different styles of yoga socks available, often with an opening on top similar to a ballet slipper that might cause you to ask, why do yoga socks have holes in them?
Yoga socks have holes in them to allow for breathability and ventilation. These holes prevent the feet from getting too hot or sweaty during a yoga session and allow for more free movement than a typical full-coverage sock. 
The rest of this article will explore what makes yoga socks different from regular socks, why you should wear them during your yoga practice, and some of the best yoga socks available for purchase. 
What Makes Yoga Socks Different From Regular Socks?
Yoga socks are designed specifically to support you in maintaining proper position and avoiding slipping and sticking during your yoga practice. 
Most yoga socks come equipped with a grippy, non-stick surface covering the bottom of the foot, usually in the form of tiny dots. This texture will prevent dirty or recently lotioned feet from sticking to the yoga mat and will also keep you from slipping around if your feet become sweaty. 
The top of the yoga sock usually has a large hole over the top center of the foot. This hole allows the foot to breathe, so you don't have to deal with sweaty feet. Additionally, because the top of the sock is open, your foot can move freely due to the minimal restriction produced by the sock.
Some yoga socks are toeless, allowing even more free movement and providing extra grip. The sock's material creates openings for each toe, allowing you to move them individually and touch them directly to the mat.
Compared to regular, everyday socks, yoga socks are quite different. Here is a table highlighting some of the most common differences.
| | | |
| --- | --- | --- |
| Traits | Yoga Socks | Daily Wear Socks |
| Thickness | Lightweight | Comes in a variety of weights from lightweight to thick wool. |
| Breathability | Designed for breathability with openings on top to allow for extra airflow. | Full coverage, but available in low-cut or no-show options. |
| Grip/Texture | Non-slip, grippy sole prevents slipping. | Fabric content of the sole usually matches that of the rest of the sock. |
Why You Should Wear Yoga Socks During Your Yoga Practice
Wearing yoga socks during yoga class has many benefits. Some of the main advantages are:
Protecting your feet when sharing mats or floor space
Preventing your feet from slipping on or sticking to your mat
Assisting in keeping your feet in the proper position
Providing more breathability and unrestricted movement than a regular sock
Let's take a closer look at the perks of wearing yoga socks during class.
Yoga Socks Protect Your Feet When Sharing Mats or Floor Space
If you've ever been to a busy yoga class, you know how packed a full house can be. Sometimes, you might end up having to share your yoga space and even run into other people's mats. Nobody wants someone else's sweaty feet all over their mat, so putting on some yoga socks before your class begins is a great idea. 
Yoga Socks Prevent Your Feet From Slipping On or Sticking to Your Mat
Sweaty feet can slip all over your mat, and dirty or recently lotioned feet can become sticky. Wearing yoga socks prevents both of these options while offering a helpful, grippy surface on the sole of the foot. 
When your yoga socks have individual toe slots, your grip ability is increased even more, as each of your toes has the ability to connect with the mat while still benefiting from the minimal coverage of the sock.
Another way to prevent slipping is to be sure you are using the correct side of your yoga mat. If you aren't sure which side is the proper side, check out my other article, Are You Using Your Yoga Mat Right?
Yoga Socks Assist Your Feet in Maintaining Proper Position 
Maintaining proper position can be tricky when your feet are slipping all over the place! However, with its unique grip-textured sole, yoga socks can help you maintain the appropriate angle and foot placement for any position, keeping you well-balanced. 
Yoga Socks Provide Breathability and Free Movement 
Being able to move freely while maintaining breathability and proper positioning is essential to a successful yoga practice. Because of the opening on the top of the foot, the grip on the bottom, and the lightweight sock material, your feet are protected while still fully functional for the whole session. 
Additionally, if the studio or room you are practicing in is chilly, having a pair of yoga socks on your feet will prevent you from getting cold, keeping your muscles warm and flexible. 
Our Favorite Yoga Socks 
Whether you are practicing yoga in a class setting or on your own at home, yoga socks are an essential item. 
With so many yoga socks on the market, it can be difficult to know which kind to buy for your next yoga class. We've taken the guesswork out and are providing you with our top 3 yoga sock recommendations (all available on Amazon.com). 
These socks are made by Gaiam, a long-lasting and reputable brand for yoga gear. These socks are fantastic because they offer toeless traction, a non-slip grip sole, as well as a stylish, criss-cross opening on the top of the foot to provide breathability. 
The Gaiam Grippy Studio Yoga Socks come in solid black and are offered as a one-size-fits-all option. These socks are gender-neutral and are intended for women's sizes 5-10 or men's sizes 4-9. 
This 6-pack of yoga socks for women is an excellent value for the dollar. With a pack of 6 pairs in a variety of colors, you'll have a different pair to coordinate with all of your favorite yoga gear! 
With a non-slip sole and a criss-cross ballet slipper style top, these yoga socks are a great choice for the avid yogi. As an added bonus, these socks can also be worn for barre, pilates, ballet, or dance! 
The Muezna non-slip yoga socks for women are an excellent option. These socks are offered individually, as a 2-pack, 3-pack, or even a 4-pack, and in a wide variety of colors. These socks differ from our other recommendations as instead of having a wide opening on the top of the foot, they are covered in many tiny holes to provide breathability. 
The Muezna yoga socks are excellent when it comes to sweat absorption and offer a 100% silica grippy sole to prevent slipping and sliding.
Conclusion
Yoga socks are unique in the sock world, with their grippy soles, absorption fabric, and holes in the top of the sock. 
The holes in yoga socks are provided to increase breathability and airflow, reduce heat and prevent excessive sweating in the feet. There are many different styles of holes in the top of the sock, but they are all there for the same reasons. 
If you are new to practicing yoga or an experienced yogi, yoga socks will benefit your practice and help you achieve new poses with ease.