Understanding The Difference: 3mm Vs 5mm Yoga Mat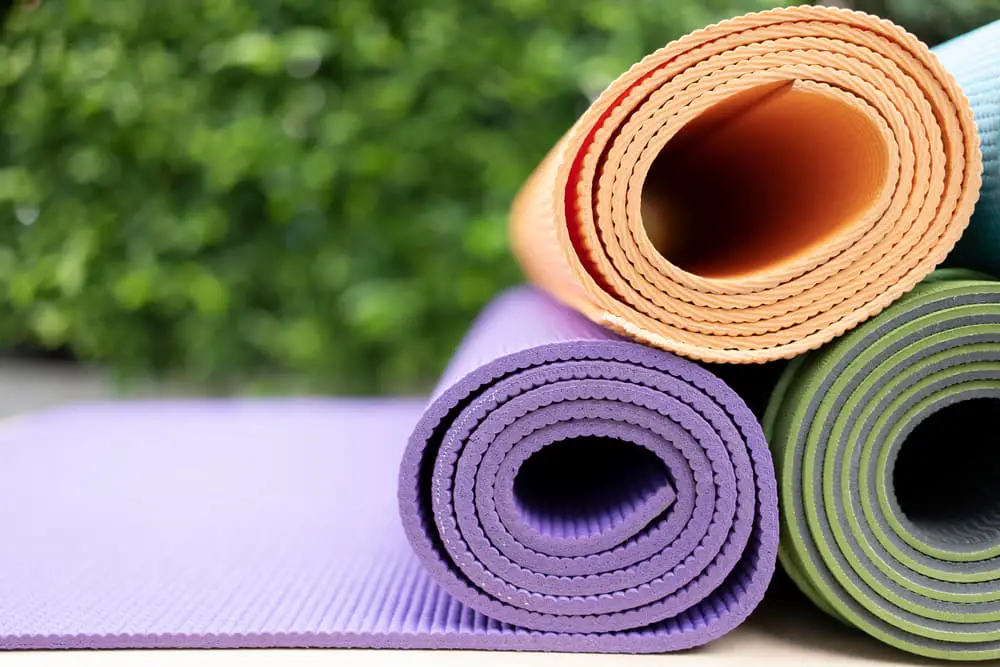 A good yoga mat allows you to fully concentrate on your yoga practice without any discomfort, ultimately making it more impactful. There are several options available in the market ranging such as 3mm and 5mm. Choosing the right yoga mat thickness can be a challenge that's why we bring this article to differentiate between the options and select the perfect one that fits your needs.
Comfortable Yet Stable Yoga Mat Thickness
Choosing the right yoga mat thickness can allow you to feel more stable and comfortable. You can:
Get a 3mm thick yoga mat with the best cushioning and balance.
Get a 5mm thick yoga mat with extra cushioning for your joint protection.
Get a 5mm thick mat with extra thickness for enhanced balance and stability.
Whether 3mm or 5mm – yoga mat thickness is very important, and both of these are good options depending on your needs. A 3mm thick yoga mat is a thinner mat, offering an increased balance of support and cushioning. Thin mats like this allow you to feel the floor beneath your feet which ultimately improves stability.
On the other hand, a 5mm thick yoga mat is a relatively thicker mat. These mats are great because they have extra padding; this padding helps in reducing the strain on the joints.
Does Thickness Matters?
The short answer is Yes! Different factors gointo determining the right yoga mat thickness for your sessions. For example, if you are looking for a lightweight, easily portable yoga mat then 3mm is a good choice. A 3mm thick yoga mat is thinner which makes it lighter in weight and easily portable which is a plus point for travellers.
But if you are a beginner who's looking for comfort and stability then you should go for 5mm, which is thicker, ultimately more comfortable and stable. Likewise, if you want to avoid joint pain, then also 5mm is your way to go because it is more supportive and provides cushioning to ease your joints. The only drawback is that 5mm are heavier and, therefore harder to transport or travel with.
Factors That Impact Yoga Mat Thickness Choice
Choosing the right yoga mat depends on several factors, such as experience, poses, and the intensity of your sessions. Considering these factors can help you select the right yoga mat thickness.
Level of Expertise: Sometimes, beginner yogis prefer a thin 3mm yoga mat because it allows them to feel the floor, providing better stability with just-right cushioning. On the other hand, experienced yogis want to hold a pose for a longer period of time while maintaining comfort and ease which is made possible by using a 5mm thick yoga mat.
Types of Poses: Third, the type of yoga done: a 3mm mat is thin enough to let the body sink into the floor, making it a good choice for restorative yoga. However, for yoga poses which are more active, a 5mm is better because it provides more support and cushioning.
Intensity of Sessions:If you do Ashtanga or Vinyasa, which are both very hard yoga styles, a 5mm mat may be more comfortable for you. Because 5mm is a thicker mat which provides more support and comfort which ultimately makes it easier to hold on a pose for longer intervals.
Other than these factors, selecting the right yoga mat highly depends on your personal preference. Your right option is what suits you and your needs the best! The only right way of selecting the right yoga mat is to experiment with different options and find it on your own.
3mm – A Versatile Choice
A wide range of yogis choose 3mm and there are several reasons for that. A 3mm thick yoga mat is neither too thick nor thin – just the right choice – for almost everyone! 
3mm thick mats are lightweight and also easy to carry. Its just-right cushioning supports your joints as well as the thinness provides stability and balance.
A 3mm yoga mat is a cheaper choice which makes it an excellent option for beginners who are not ready to spend more on a mere yoga mat. Not only that, 3mm yoga mats are good for almost every kind of yoga pose from active to gentle to restorative. On a 3mm mat, you don't have to worry about slipping or sliding when you practice around.
With a 3mm mat, you will not only be able to move freely but also, be comfortable and supported. So, if you're looking for a lightweight and versatile mat, a 3mm yoga mat is the perfect choice.
Pros of 3mm Yoga Mat
The best yoga mat for comfort and support in all types of yoga is 3mm thick. A 3mm thick yoga mat is neither too thick nor thin because of which it allows you to feel the floor under your feet, making you feel supported and stable. Additionally, this mat is travel-friendly because of its lightweight.  The thinness of the mat gives you more freedom and lets you control your poses better. This mat is flexible and can move with your body. It can also support you and keep you steady. 
The yoga mat's 3mm thickness is perfect for hot yoga because it lets more air through, which improves blood flow and keeps you cool while you practice. 3mm is also a good thickness for regular yoga.  Also, a 3mm mat is great for standing poses because it is more stable and supportive than a thicker mat. A 3mm does not have extra layers of cushioning which makes it a cheaper choice for people who are not ready to spend money on yoga mats.
Cons of 3mm Yoga Mat
A 3mm thick yoga mat is not just all good; it has some cons too. These cons include not providing as much cushioning as a thicker mat. A thin mat can cause joint pain while practicing which can have a negative impact on health instead of a positive one. Poses like kneeling can hurt the knee joints because of not enough padding.
Not only that but also if you are required to hold a yoga pose for a longer interval then a thin mat can make it difficult. A 3mm thick yoga mat lacks comfort and ease in the long run. Additionally, these mats do not last long as compared to thick mats, resulting in often replacement which eventually costs much more than a thicker mat. Also, 3mm yoga mats tend to move a lot which does not allow you to stay in a position for a very long time. Poses like Downward Dog on a 3mm can be annoying because it moves away. For experienced yogis, 3mm is not an option because they are looking for stability, ease, and balance for longer intervals.
Learn more!! see our article Tips To Choose The Best Yoga Mat for more information.
5mm – Extra Cushioning
A 5mm thick yoga mat is best for people who want extra comfort provided by the extra cushioning in the mats. These mats provide an incredible balance along with comfort and support. These mats have extra layers which immensely increase comfort and reduce the pressure on joints. With these mats, a person can try every yoga pose – from easy to intense – with no strain or pain in their joints. Because of this, using a 5mm thick mat can double the positive effect on the body. The extra padding doesn't only provide comfort but also reduces the risks of any harm or injury if a collision happens because the cushioning absorbs the impact.
Additionally, a 5mm mat can provide an amazing grip which helps to hold postures for longer intervals, not just increasing comfort but also stability, making sure the mat doesn't move around. Thicker mats last longer than thin mats, making them a better investment option in the long run. However, their heavy weight doesn't allow them to be travel-friendly. 
Pros of 5mm Yoga Mats
There are several pros of 5mm thick yoga mats. A 5mm yoga mat provides increased comfort and stability. The extra cushioning of the 5mm protects your body from the hardness of the ground, preventing any strain on your joints. While doing different postures, a 5mm mat can provide stability and ensure sticking to a place.
There are extra layers in a 5mm yoga mat, as well as the materials that are used are high-quality as compared to thin yoga mats; this makes 5mm yoga mats highly durable, making them the best options for the long run. These extra layers help the mat from any wear and tear. Thick mats like 5mm are the best choice for yogis who want to level up their yoga practices and want a durable, stable, and comfortable option. You can get the most out of your yoga sessions if you invest in a 5mm mat with better stability and comfort.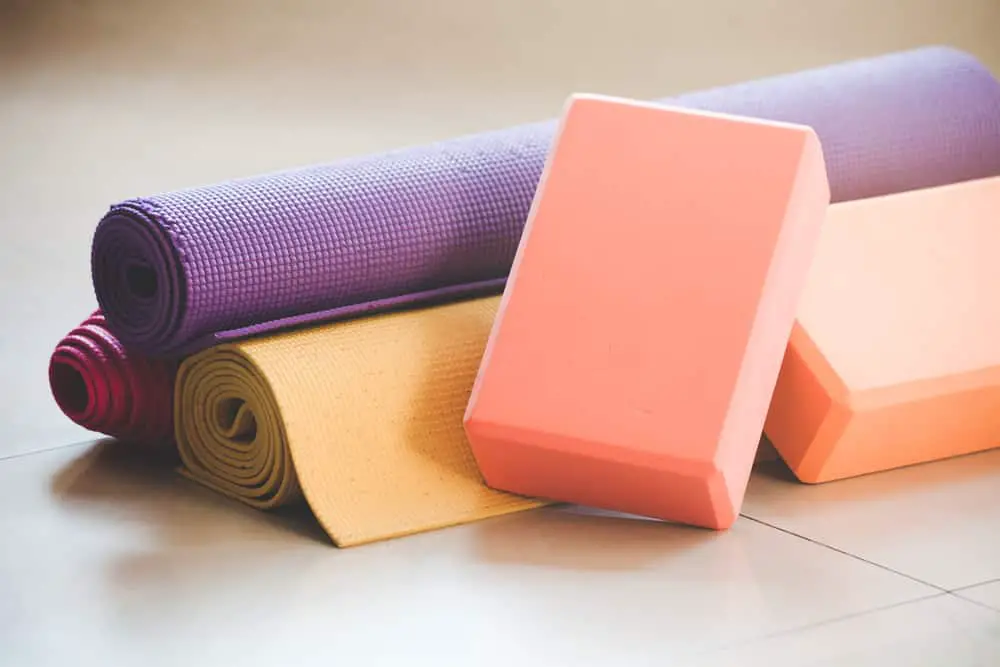 Cons of 5mm Yoga Mats
It is important to keep in mind that a 5mm thick yoga mat has some disadvantages too before you go and invest your money in an expensive 5mm mat. One of the cons of 5mm yoga mats is that they may feel unstable for people who like the touch of ground under their feet. In this case, the yogi may feel uneasy, with a risk of falling. That usually happens to beginners who expect to feel the ground under their feet.
A bigger drawback is that the extra layers of cushioning make it heavier. Ultimately making it harder to transport. For the people, who have to attend a yoga class for their yoga practice, these heavy mats can be a problem.  Also, these mats can be rolled or folded easily because they are thick, making it difficult to fit into yoga bags.
Lastly, these mats are expensive. Because of extra layering, cushioning, and high-quality materials, these mats are expensive, and most people won't spend their money on them.
Read my article about 4mm Vs. 6mm Yoga Mats: How To Make The Choice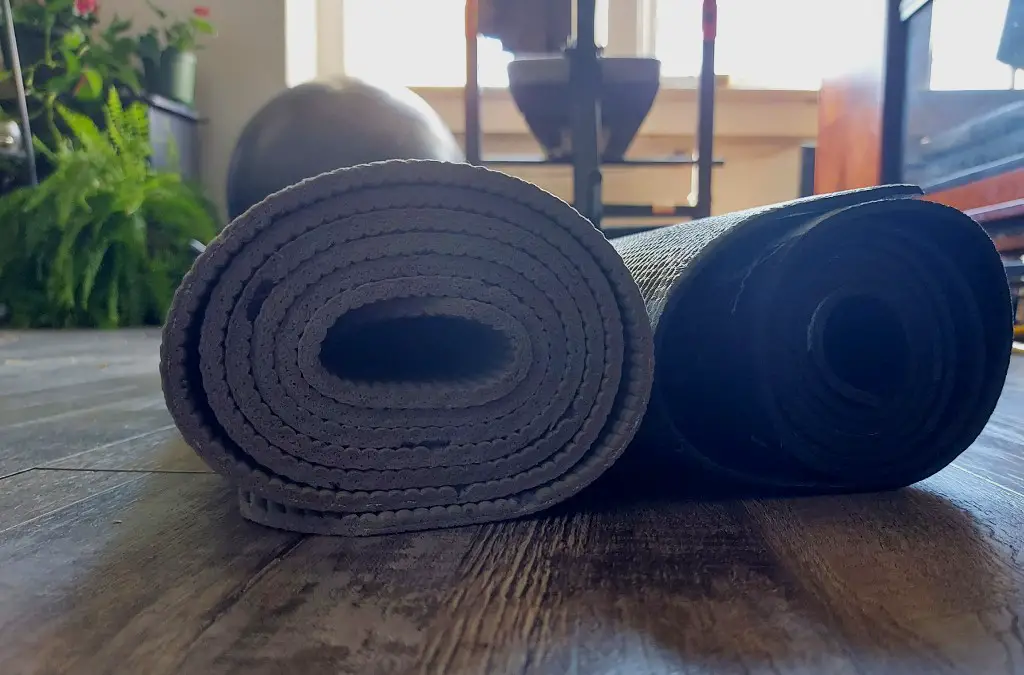 Final Thoughts
Choosing the right yoga mat entirely depends on your needs and your budget. The main difference in both mats is that 3mm is thinner and 5mm is thicker.
A 3mm thick yoga mat provides fewer layers of cushioning which makes it travel-friendly and great for at-home use too but it can be challenging to use for people with joint pain. On the other hand, a 5mm thick yoga mat has more layers of cushioning which makes it highly comfortable and stable but is expensive. Both mats have non-slippery surfaces and good grips, but 5mm is the best option for beginners and yogis with joint pains because it reduces the strain on the joints.
You have to keep several factors under consideration while selecting the right yoga mat; these factors include the types of poses, the intensity of sessions, and your experience. A 3mm is a cheaper, lightweight, and travel-friendly option, best for occasional use, and a 5mm is a durable, stable, and comfortable option with is the best option in the long run.